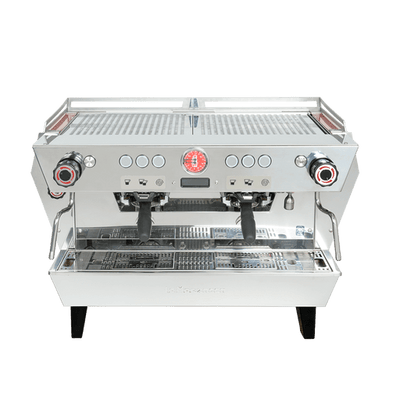 NOTE: To get a quote or learn more about this product and installation, please call us at 408-374-6537 or send us an email at service@creativedrinks.com.

The ultimate workflow machine, a new standard in high volume café performance.

The KB90 is the ultimate evolution of the Linea PB form. Designed to optimize the workflow for the barista in the world's busiest bars by improving the ergonomics and features of the machine.
Straight-in portafilter
Designed to simplify the motions required to engage the portafilter and reduce the strain by 12 times on the barista for even greater performance and everyday usability. High volume coffee environments demand that a barista can work fast and efficiently to produce drinks during the busiest periods of the day. The Straight-In Portafilter can noticeably mitigate the repetitive stress injuries occurring through its ease of action improving the natural workflow and output of barista.
Auto steam flush
After each extraction, a burst of steam from the steam boiler purges the brew path and is followed by a flush of hot water, keeping the group clean even during the busiest hours. This innovative function minimizes coffee residue in the group and reduces the number of times baristas need to backflush during service.
Auto brew ratio with drip prediction
Precision scales incorporated into the drip tray improve beverage consistency by stopping the extraction based on mass. The machine uses an algorithm called Drip Prediction to improve shot accuracy and ease of dialing in.
Independent boilers
Separate boilers for each group head allow the barista to optimize temperature for individual coffees.