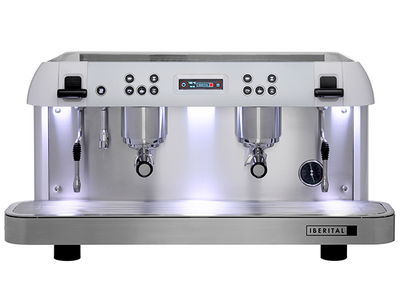 NOTE: To get a quote or learn more about this product and installation, please call us at 408-374-6537 or send us an email at service@creativedrinks.com.
A 360º Experience


Designed to inspire, perfect in every sense.
The Expression Pro is designed for demanding environments, both in terms of workload capacity and brewing quality. It has a double boiler system, one boiler extracts the coffee and controls optimal parameters to the millimeter, and the other boiler generates steam for the milk with an actual temperature offset system. View and control all of the machines parameters and functions intuitively by using the touchscreen, including the programming of coffee doses in milliliters or timed. This also features a system for contacting the technical service team in the event of a maintenance issue. The Expression Pro is available in two colors: glossy white and matt black. So that it looks impressive on countertops.

NEW EASY-TO-USE TFT COLOR TOUCHSCREEN
The Expression Pro has multiple functions and programs accessible from the touchscreen, allowing you to accurately control and automate the extraction parameters based on your criteria and objectives. Manage your Stock of Coffee and machine maintenance via the integrated intelligent control system that is supplied internet-enabled.

TECHNICAL SPECIFICATIONS
Boiler capacity: 2GR: coffee 3L | steam 8.4L · 3GR: coffee 4L | steam 11.5L
Heating element: 2GR & 3GR: coffee 1,000W | steam 3,000W
Front panel can be removed enabling easy access inside the machine.
Boiler drain tap located in center of drip tray.
Contactor 25A and static relay built-in.
Lever steam valves.
Anti-splash hot water outlet.
Automatic boiler fill.
Heating element protector device.
Internal motor and pump.
Weight: 2GR: 64kg · 3GR: 84kg