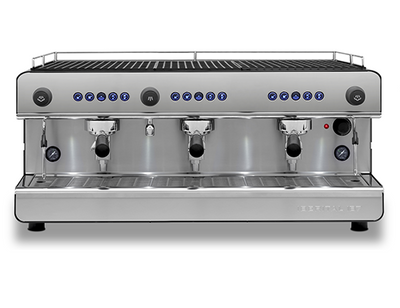 NOTE: To get a quote or learn more about this product and installation, please call us at 408-374-6537 or send us an email at service@creativedrinks.com.
Small Size, Big Coffee.

A smart option for a good coffee.
IB7 is the perfect machine for small spaces. A machine with a smart, compact design that retains the robustness and durability of all Iberital products. The perfect piece for your business. 
A unique design based on vintage machines.
The IB7's design embodies the vision of a classic 20th century espresso machine and combines this image with a technologically advanced model built from durable materials and stainless Steel panels. Whether you're unpacking your machine for the first time or carefully ensuring its upkeep, the IB7 offers a unique experience that fuses ergonomics with smart design.
TECHNICAL SPECIFICATIONS
Adjustable touch panel settings.
Boiler capacity: 1GR: 6L · 2GR: 10.5L · 3GR: 20L
Heating element: 1GR: 1,800W · 2GR: 3,000W · 3GR: 5,000W
Stainless steel steam pipes.
Anti-splash hot water outlet.
Automatic boiler fill.
Heating element protector device.
Work area L.E.D. lighting.
Internal motor and pump.
Weight: 1GR: 37Kg · 2GR-C: 54Kg · 2GR: 61Kg · 3GR: 79Kg