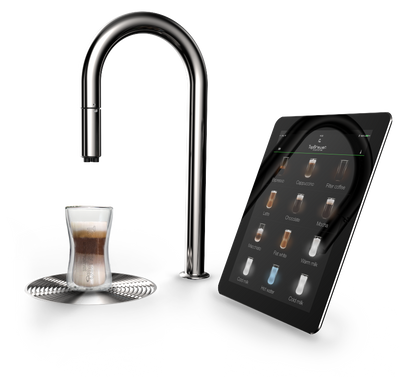 NOTE: To get a quote or learn more about this product and installation, please call us at 408-374-6537 or send us an email at service@creativedrinks.com.
The TopBrewer is Scanomats revolutionary coffee machine, which delivers freshly ground coffee in seconds using any smart device. Use the TopBrewer app to customize and favoritize your preferred coffee. With an under-the-counter design, and a simple swan neck the TopBrewer fits into every environment.
Easy to use

Select and customize drinks with the TopBrewer app. It's super intuitive.
Customer Friendly
Designed with the customer in mind, TopBrewer is fun and interactive.
Clever Features
Cutting-edge technology at your fingertips. IoT, iBeacon, mobile payment, and more.
Award-winning design
We are proud to have a recognized product like the TopBrewer. Having won design awards & had a press journey around the world - we pride ourselves in having a unique, minimalistic, and high-quality coffee brewer that fits into any space.